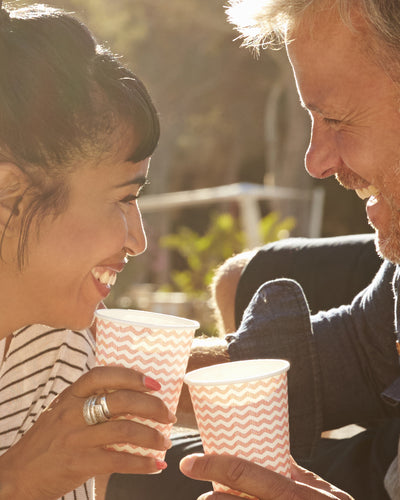 Hearing Aid Mobile Apps
Phonak, Signia and Resound all have mobile apps that can take your listening experience to all new levels! Learn about the available apps below.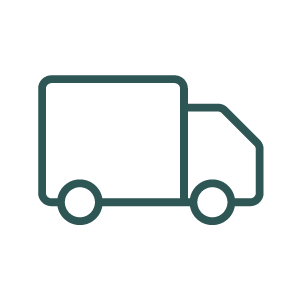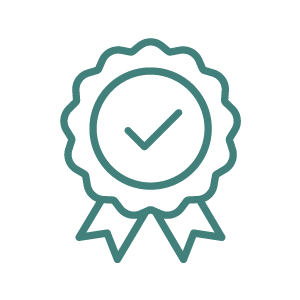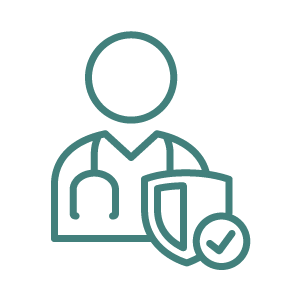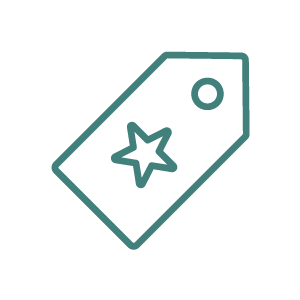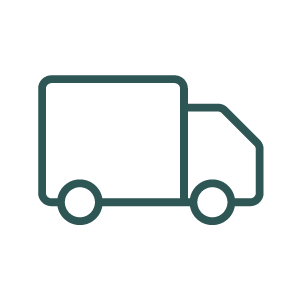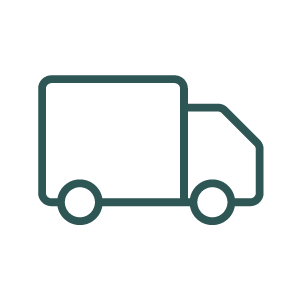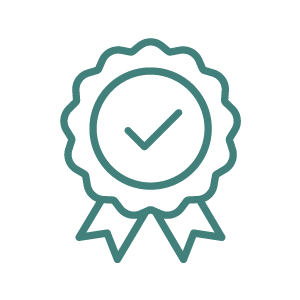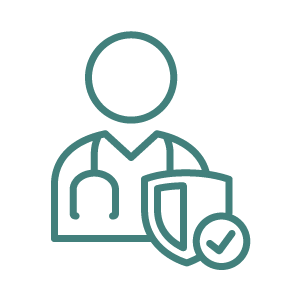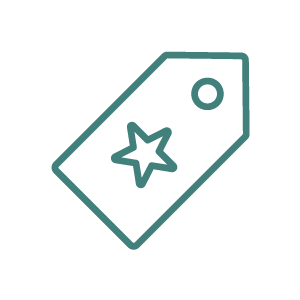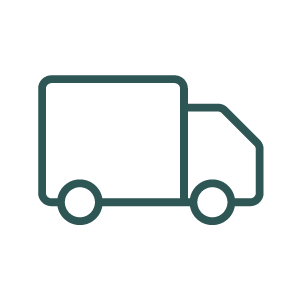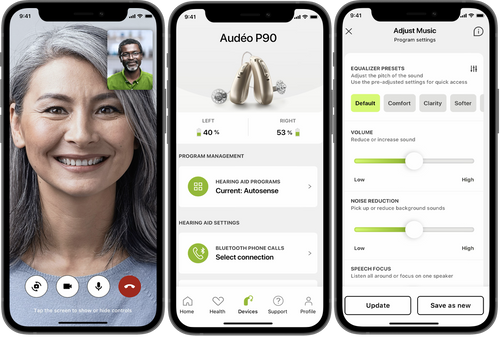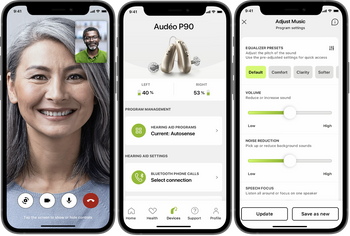 myPhonak
Remote Support
Receive feedback and live tuning from your hearing care professional. Create new sets of feedback within the interface for different environments, such as if you can't hear people speaking in a restaurant or if the quality of your music isn't as clear as you would like.
My Hearing Aids
Within the 'My Hearing Aids' section you can find all the information about the battery life of each device, average daily wearing time and all of your pre-programmed settings for different environments.
Remote Control
The Remote Control section of the myPhonak app enables you to mute, change the volume of each independent hearing aid and choose to focus more on noise reduction or speech focus.
For those with Tinnitus symptoms, the app also has a Tinnitus masker which amplifies a sound to reduce the symptoms.
Hearing Diary
Through the Hearing Diary within the myPhonak app,you can select a topic from 'Speech Understanding', 'Sound Quality', 'Hearing Aid' or 'Other' and rate your experience on each of these topics as well as adding a custom message detailing your specific compliment or issue.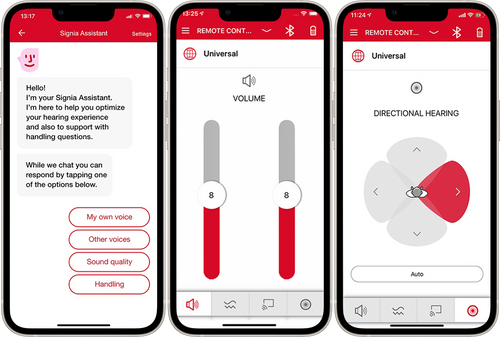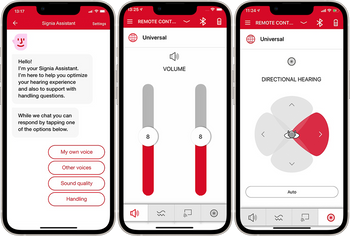 Signia App
Signia Assistant
The Signia Assistant within the app is your personal listening Artificial Intelligence that can learn your preferences and settings to deliver a unique experience.
Remote Control
Control the volume and adjust the balance of the sounds your hearing aids pick up.
Constantly monitor the battery level of both your hearing aids. So, you know when you need to place it back in its charging case.
Directional Hearing
The directional hearing function works in 360 degrees and lets you focus on sounds coming from a specific direction.
If someone on your right side is talking to you, simply select the appropriate option on the screen and your Signia hearing aids will reduce the background noise in order to hear that person more clearly.
Connect and Stream
The Signia App acts as a remote for accessories allowing you to control the volume of, and manage, the devices you are connected to.
Virtual Appointments
Ask your hearing care professional questions about your devices, provide feedback on your listening experience and troubleshoot any problems you may be having - all through video, voice or text chat.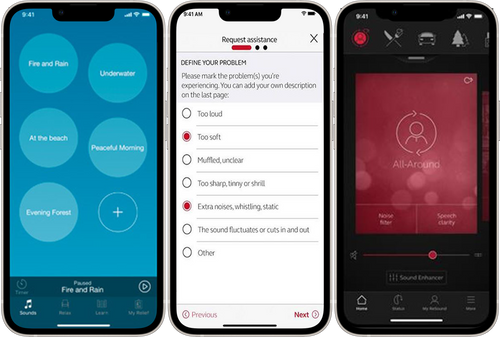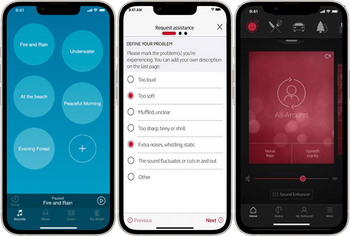 Resound Smart 3D
Easy Control and Battery Monitoring
Control numerous aspects of your ReSound hearing aids, make quick adjustments to volume and balance levels and track your lost hearing aids in case you leave them behind.
The app will also display the current battery levels of your devices so you know when they need to be charged.
Tinnitus Management with the ReSound Relief App
The ReSound app offers a range of background noises from white noise to nature sounds to help combat the effects of TInnitus. 
The app allows you to layer up to 5 different sounds together to create your perfect Tinnitus relief environment.
ReSound Assist
ReSound assist allows your hearing care professional to remotely fine-tune your hearing aids and provide assistance when you can't physically meet.